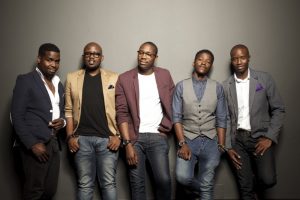 Ask each member of the band how they define their music and the responses are as varied as their personalities. Karabo Moeketsi on bass calls it: "Hybrid African music on steroids". For lead electric guitarist Sifiso Buthelezi, "Liberated Afro Retro" is more fitting. Lead electric guitarist Simphiwe Kulla terms it "Eclectic Soul Trip". Drummer Keke Mabusela rates there's evidence of growth in their new release even though the music remains familiar. Acoustic guitar player Mthae Sibanda says their sophomore album manages to be dirtier and cleaner – all in the same breath.
At the 2012 Metro FM Music Awards, The Muffinz were nominated in the Best Newcomer and Best group categories, taking home the title for the latter. That same year they received four nominations for the esteemed South African Music Awards: Best Newcomer, Best Group Album, Best RnB/Reggae/Soul Album and Album of the year categories.
The Muffinz have received a standing ovation at the Cape Town International Jazz Festival, toured Norway and performed at the Doha International Jazz Festival. The guys have also appeared on stages in Mozambique, Swaziland, Algeria and the DRC, and performed at the Apollo Theatre in New York in October 2014. The show was sold out.
Facebook: TheMuffinzLive
Twitter: TheMuffinzMusic