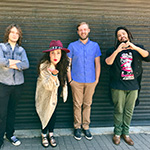 Jamie-Lee founded the Sextons in 2013. This energetic live act brings great music, powerful lyrics and memorable stage presence to all who watch them perform. Having been invited to perform at some of South Africa's and Africa's best music festivals including; Oppikoppi, FORR-Mozambique, Splashy fen, Afriski-Lesotho and more., The Sextons have fast-tracked their way into the hearts of all music lovers.
Jamie-Lee Sexton fronts this enigmatic foursome on vocals, guitar, piano, ukulele and harmonica. She is accompanied by three highly experienced musicians – Mark Van Dijk on drums and percussion, Danny Helsing on bass guitar and backing vocals and our newest member, Steve Greyvenstein on lead guitar.
With a fresh and exciting new sound called "Alternative Pop", The Sextons are bringing the beat back to SA music.

"Ego", is the first single they will be presenting after their successful debut album "Welcome to Forever" which included the singles "Bee Bop", "Inside", the live favourite- "I'm Always Here" (Baywatch theme) and their number 1 hit –"A little like you".Produced by Jacques Du Plessis & Adrian Erasmus from High Seas Studios, "Ego" is a modern disco track with catchy lyrics and an undeniable hook.

Facebook: @TheSextons1 I Twitter: @WeRTheSextons I Instagram: the_sextons I SoundCloud: The Sextons