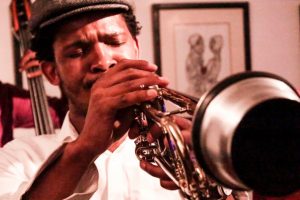 An urban arts music collective of young musicians dedicated to the advancement and preservation of the South African music legacy. They participate in artistic dialogue and collaborations with many of the living legends of South African music, particularly jazz and indigenous music.

The Amandla Freedom Ensemble highlights the compositional material of bandleader Mandla Mlangeni (trumpet) and executed by an impeccable dynamism by the ensemble in the form of Tumi Mogorosi (drums), Ariel Zamonsky (bass), Oscar Rachabane and Nhlanhla Mahlangu (tenor saxophones).
"Mlangeni's Amandla quintet wraps elliptical melodies in three-part horn harmonies, rich with impasto, swinging like broken chandeliers. The Soweto native's compositions pull from church hymns; traditional rituals learned from his uncle, who was a sangoma, or healer: American postbop; the Ornette Coleman Quartet; and the bounding, interwoven cycles of Eastern Cape music" Jazz Times.
Facebook:  AmandlaFreedomEnsemble