Morena Leraba, Simmy, Tshepang Ramoba, Nomfusi and Musa Mashiane to Headline Fête de la Musique 2023 across 3 venues in Johannesburg.
Fête de la Musique, one of Johannesburg's most anticipated music festivals, announces its exciting lineup of headlining acts for the 2023 edition. Taking place on the 24th of June at Newtown Junction, Victoria Yards and the Alliance Française of Johannesburg, this year's festival promises an unforgettable celebration of local music and culture for everyone. The French Institute of South Africa is excited to bring this event back for its 12th year with the support of TotalEnergies Marketing South Africa, Newtown Junction and SAMRO.
Following the announcement of the 20 supporting performers, the 2023 headlining acts for Fête de la Musique Johannesburg are sure to dazzle: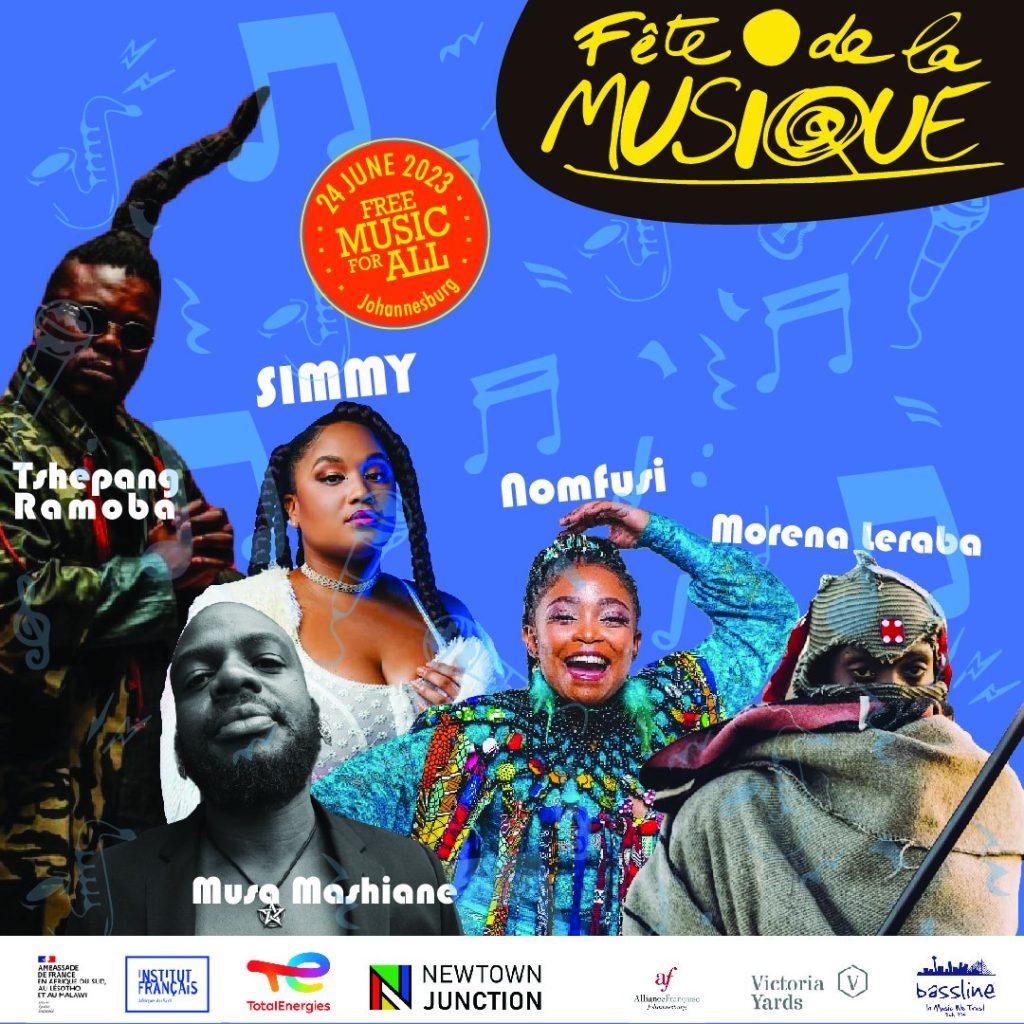 Playing at Newtown Junction, Simmy is an exciting addition to the lineup. Her music blends elements of electronic dance music, neo-soul, and experimental pop. Simmy's heartfelt lyrics and smooth melodies have earned her widespread acclaim, describing her music as "nostalgic in a sense that is relevant, energizing with societal undertones "
Also performing at Newtown Junction, Musa Mashiane will bring a unique sound experience of Afro-soul, traditional African, soulful R&B, jazz, blues and a strong texture of Afro-melodies. He pulls his inspiration from international singers like Victor Ntoni, Oumou Sangare, Stevie Wonder and Bobby McFerrin, but delivers it with a truly original African signature.
Victoria Yards will be led by Morena Leraba. This Lesotho-born singer and rapper brings a refreshing blend of genres to the Fête de la Musique stage. He fuses traditional Sesotho lyrics with Electro, Afro-house and Hip-hop. His lyrics are rooted in the genre, Famo: a sub-genre of Sesotho traditional music or poetry.
The second headliner at Vic Yards is Tshepang Ramoba. Known as the versatile drummer of the legendary South African band, BLK JKS, Tshepang Ramoba brings his innovative musical talents to the FDLM stage. Blending elements of Hip-hop, R&B jazz, and other novel sounds, Tshepang's music transcends boundaries with its infectious rhythm.
Finally, lighting up the Alliance Francaise JHB stage is Nomfusi. This self-taught singer and songwriter has become well-known for her untamed stage performances all over the world. Nomfusi's music is a beautiful mix of genres from joyful Township sounds with Maskandi guitars to Afro Pop, Afro Soul and beautiful soulful Ballads with a hint of Gospel.
The whole line-up is:
Victoria Yards Stage A:
Morena Leraba – 18h00
L8 Antique – 16h00
Angelyric – 14h00
Madkind – 12h00
Victoria Yards – Stage B
Tshepang Ramoba – 17h00
Kekelingo – 15h00
Kazi Ya Sanaa – 13h00
PG_13 – 11h00
Simmy – 17h00
LUUKHANYO – 15h00
The Charles Géne Suite – 13h00
Sfiso Atomza – 11h00
Newtown Junction – Ampd Studio Stage
Musa Mashiane – 16h00
uKhoiKhoi – 14h00
The Cooligans – 12h00
Newtown Junction – Railway Line Stage
ThuliThulz – 16h00
SHAKES – 14h00
MazwiDaDj – 12h00
SweeterBrown – 11h00
Alliance Française of Johannesburg
Nomfusi – 17h00
Ntunja – 15h40
Zoe Molelekwa – 14h30
Nonhlanhla Dube – 13h15
Noba – 12h20
Asiomhle Zuri – 11h30
By partnering with Bassline Live, Newtown Junction, Victoria Yards, and the Alliance Française in Johannesburg, the festival hopes to increase accessibility with a wide range of locations and musical acts to choose from.
Fête de la Musique is free to all! Join us on June 24th, 2023 for a musical feast for everyone.