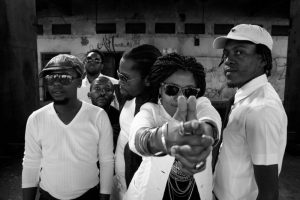 Bantu Continua Uhuru Consciousness (BCUC) consists of seven musicians from Soweto. BCUC moves the audience both physically and emotionally with a sound derived straight from the ancestral lineage, demystifying general worldviews about modern Africa.
BCUC takes the audiences along on an intriguing epic journey, sharing their controversial yet interesting views of modern Africa. They tackle the harsh realities of the voiceless, especially the plight of the uneducated workers at the bottom of the social food chain. BCUC taps into the elusiveness of the spirit world of ancestors by which they are inspired. The Africa portrayed by BCUC is not poor, but rich in tradition, rituals and beliefs.
Highlights so far of BCUC's musical journey are performances at Oppikoppi in 2013 and 2014, Etnosur 2013 (Spain), Festival Mundial Tilburgand, Into the Great Wide Open (Netherlands), Meiliepop (South Africa), Balcony TV (JHB South Africa), Roots Open Air (Amsterdam), Drum Beat Concert (Soweto), Soweto Arts and Craft Fair (Soweto Theatre), Campus Invasion (Pretoria), Brickfields Concert (Johannesburg), Fete de la Musique (Johannesburg).
Our Indigenous Music is not trapped in the past. Instead our views embrace the now. We are influenced by what we see, hear and the global community. Bantu Music (Africa Ngungungu) is not constrained to where we are from instead it recognizes human connection regardless of geography, culture or social standing. We are the now generation. We are relevant; we are "the man on the street''.
https://www.reverbnation.com/BCUC
https://soundcloud.com/BCUC-Band
https://soundcloud.com/BCUC
Facebook: bantucontinua
Twitter:  bantucontinua