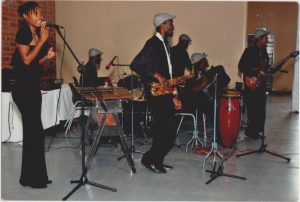 Coal Train Band started in 1990 in Soweto (Diepkloof) as a drama groupcalled African Devoted Artist Group. In 1993 the name changed to Coal Train Band after the group developed into music. In 2006 the band crafted their own Marimba instruments.

Coal Train Band developed from a community organization background, which involved running music, dance and drama community activities within their organization and around in the schools. As band members are also skilled in other fields like drama, drumming and dance they also give their time to teach the youth.

Coaltrain Band is an exciting collaboration of African musicians that crosses national and international musical boundaries. Their lives shows have been performed in South Africa and abroad. The band started the millennium with a great impact by winning the Old Mutual Jazz Encounter Competition both Regional and National. Afrida consists of nine (9) young musicians and dancers who study and perform traditional style of music; with a touch of Afro Jazz, Kwai Jazz, Contemporary Jazz and Mbaqanga rhythm. They create a unique and exciting sound together with energetic dances by adding Western Drum and Percussion. Plans are underway for performances in Africa and the whole world. The band has released their first CD with sheer Sound entitled Buyela Ekhaya. On May the 3rd of 2002 the band was nominated at the SAMA Awards (South African Music Awards for the Best Instrumental Album for 2002.