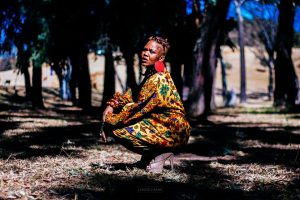 Motsatsing is an Afro-Contemporary singer, songwriter and recently, a budding DJ. Her first taste of music performance came when she was living in Pimville, Soweto, when she joined the band 'Scrapyard', lacing their kwaito/hip hop tracks with her soulful voice.
Later she had a 5-year run as one of the lead vocalists in the alternative Indie band – Uju – where she started finding her voice and making her presence felt in the South African music scene, before moving into a solo career in April 2012.
Motsatsing's compositions are a fusion of traditional South African sounds seamlessly blended with soulful and contemporary vocal arrangements. She says of her music and live performances, that they are "a pulsating celebration of Africa". Part of her life philosophy, which extends to her music, is a return to respecting our culture and ourselves.
She has already been seen alongside giants in the alternative music scene such as the BlkJks. She's been described by journalist, Bongani Madondo, as the 2012 version of 80's Disco Queen 'Adeva' at a June 16 event she did some time ago.
https://soundcloud.com/Motsatsing-Nhlapo/mamolahlehi
Facebook: Motsatsingandtherays
Twitter: ke_motsatsing