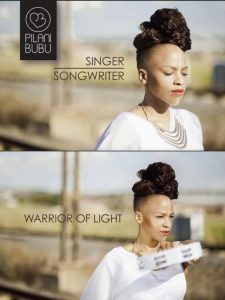 South African singer-songwriter Pilani Bubu has come with a refreshingly unique contribution to the South African music scene. She is an independent artist, unsigned, funding her own career and doing it all her way.
Her first EP titled 'Journey Of A Heart' produced by top soul artist and producer RJ Benjamin, was released in 2012, with the first single; 'Miss Understood" play-listed on 25 radio stations across S.A. The journey continues in 2015 with the release of PART II of the Journey, with an EP titled: 'Warrior Of Light', starting with the release of the first single 'Free' in March 2015.
She has performed locally and internationally: Drum Beat Festival 2013, Grahamstown National Arts Festival 2014, Mozambique, Nigeria, New Orleans. Her music expeditions include London, Dublin, New York and the South of France.
From April to May 2015, she returned to New Orleans to reconnect and collaborate with local musicians for her album with performances around the City. This is a compelling story of great purpose, as she likes to call herself a 'warrior of light 'and' creative lifestyle activist. She believes that the world would be a better place if everyone lived their passion and did what they were called to do.
Her music has evolved into a unique fusion of genres: folk, jazz, blues, funk and soul – old souled but yet still so catchy. Her lyric as life & creative activist speak for themselves. Growing up in the diverse South African culture, she brings with her a very cohesive global sound, with great crossover appeal.
https://soundcloud.com/pilanibubu
Facebook: PilaniBubuMusic
Twitter: pilanibubu