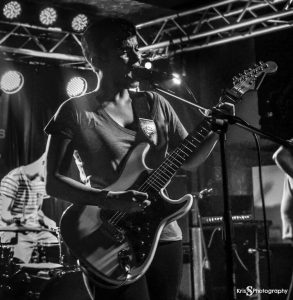 The Meerkat Mob is a three piece band from Johannesburg.
They play alternative indie rock, and their self-recorded debut EP "Bad Dancing Parasites"(2014) focuses by large on South African social and political issues.
Begun in 2012 as a keyboard-led duo, the group has evolved over three years of live performance in Johannesburg and Pretoria into a grittier, heavier sound; still underpinned by female-blues vocals, textured and detailed drumming, and prog driven bass lines; but shifting in primary instrument from keyboard to guitar.
Notable performances include those alongside Shadowclub, Shotgun Tori, Japan and I, Greedy Gregand Fridge Poetry.
https://soundcloud.com/the-meerkat-mob
Facebook: TheMeerkatMob
Twitter: TheMeerkatMob