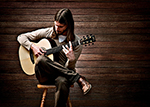 "Guy Buttery is something of a National treasure", says South Africa's leading newspaper The Mercury. As an internationally recognized musician, this multi-instrumentalist enjoys invitations to play sell-out performances all over the globe. However, to simply label Guy Buttery as one of South Africa's musical phenomenons would be an injustice. His international role has evolved into being an ambassador of South African music.
At the age of 18, Guy Buttery's debut album was nominated for 'Best Newcomer' and 'Best Instrumental' at SAMA's. Guy then went on to collect two SAMA's in 2010 and again in 2014. He has also received numerous other major National accolades and has been honored with more of these prestigious awards than any other artist. Guy was then invited to perform his works with the 52-piece KZN Philharmonic Orchestra, dubbed "Africa's greatest ensemble" with his solo performance and was selected by the public as one of South Africa's Top Young Personalities by The Mail & Guardian.
Buttery has worked with an incredible myriad of artists including Dave Matthews, Jethro Tull, Vusi Mahlasela, Will Ackerman, Salif Keita, Preston Reed, The Violent Femmes, Jon Gomm and countless others. The media has cited him "as one of the finest exponents of the acoustic guitar in the World." Expect high dynamics, deep grooves, delicate African inflections and mind-bending guitar playing of an entirely new order.
Link audio/video: https://www.youtube.com/watch?v=2QWXyHCpw7E
Facebook: https://www.facebook.com/guybutterymusic/
Twitter: https://twitter.com/guybuttery