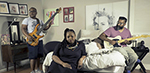 SAMA and MetroFM Award Nominee Uju are unpredictable yet familiar.
Drawn from vastly different realities, the 4 members of UJU (Zulu for Honey) are an anomalous product of contemporary Johannesburg.
Ntuthu Ndlovu (Lead Vocalist and Poet b. 1983)
Mosebetsi Nzimande (Bass Guitar b. 1979)
Earl Joseph (Rhythm Guitar b. 1973)
Given Mamakwa (Drums b. 1985)
UJU's musical references range from Mbaqanga- Zulu Traditional Music, Busi Mhlongo and Tortoise, The Wedding Present and Radiohead, Princess Magogo and Richard Bona, to Janis Joplin and Patti Smith. Ndlovu's cutting lyrics can be matched to pretty melodies, balladic and swirling guitars or looping grooves. At other times her shamanic chants and soulful spoken word can be wrapped in Joseph and Nzimande's almost trance-like dub and rock riffs.
Link audio: http://www.rdio.com/artist/Uju/album/Free_1/
Facebook: www.facebook.com/groups/39250137827/