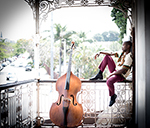 Unity band is a collaboration between bassist/vocalist Ildo Nandja, guitarist Sebastian Goldswain, pianist Sanele Phakathi and drummer Sidney Rash.
The four members decided to get together for a concert dedicated to peace in the aftermath of violence the nation has witnessed last year (Xenophobic attacks).
As individuals who studied and work together, they share a common love for jazz and the belief that music is a universal language and a means through which humanity can come together.
The band's repertoire blends original compositions ranging from Afro Jazz, country, Latin and world music. The musical diversity reflects each member's individual experiences and the result is a combination of different playing styles and influences.
Soundcloud: https://soundcloud.com/ildonandja/sets/paz-a-todos
Facebook: https://www.facebook.com/nandja