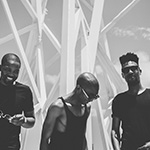 Johnny Cradle are a Johannesburg, South Africa based three piece band. Laz provides the DJ scratch sample samples and FX, Tebogo J Mosane drums the drums and backs the vocals, Sakie leads the vocals, bass the Moog and plays the keys.
With roots in Mdantsane and Umthatha in the Eastern Cape and Ga-rankuwa in Gauteng, it's no wonder these 80's grown-ups have a diverse influence behind their township slang Xhosa/ English lyrics driven by heavy bass, almost hip hop electronica drum rhythms, DJ cuts reminiscent of golden era hip hop and a bluesy rock electric guitars.
Add to that a visual creative flair that sees the trio creative directing their own photo shoots, videos such like "uLate" and artwork for their debut self-titled album.
In three years Johnny Cradle have graced multiple stages in the Jo'burg scene as well as formidable festivals like Grahamstown festival (2015), Oppikoppi (2016), Milliepop (2017), Lush festival (2017) and well as radio live performances and appearances on stations like 702, Power FM, Yfm to name a few.
Ever stylish the Cradle crew have also recently graced numerous print outlets like Destiny magazine, The Mail & Guardian, The Sunday Times style pages and Sakie appearing in various TV and print commercials and style features as well as brand campaigns for the trendy menswear label S.P.C.C
With their music video for "uLate" currently doing the rounds on social media the future has never looked brighter for Johnny Cradle with a new single and album on the way and series of upscale festival appearances be sure to check them out.
Facebook: JohnnyCradle I Twitter: @JohnnyCradle I Instagram: JohnnyCradle I SoundCloud: johnnycradlenoise