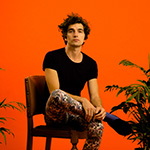 Josh Kempen is a truly talented South African singer- songwriter and exciting performer with a diverse and enchanting body of original music, which ranges from folk, to swing to garage rock. Previously nominated as "Songwriter of the Year" by SAMRO, he is now focused on performing his music as a three piece outfit incorporating drums and keys.
He has performed at South Africa's largest music festival, Oppikoppi, as well as the countries most loved venues with the likes of Shortstraw, Desmond & the Tutus, Just Jinger and Matthew Mole.
Cape Town based Thor Rixon recognised his talent and recently produced Josh's latest EP, a nostalgic 1950's style throwback, interlaced with midtempo tales of love and travel. The Midnight Ship EP was picked as a "Top 20 Album/ EP of 2015" by SA blog Texx & the City and made "the Fuss List" of 2015.
Josh was recently picked by Deezer ZA as an "Artist to Watch in 2016" alongside international breakthrough artists like Leon Bridges & Jack Garrat. Josh has been endorsed by major brand Dr. Martens.
Facebook: @joshkempenmusic I Twitter: @joshkempenmusic I Instagram: joshkempen I SoundCloud: joshkempen