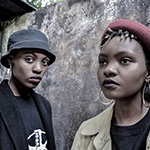 KAJAMA are an electronica duo of sisters, Nandi and Nongoma Ndlovu, born of traditional African folk musicians Themba and Bajabulile Ndlovu. Nongoma & and Nandi Ndlovu germinated between Zimbabwe, Switzerland and South Africa.
With Nandi on the production, writing and background vocals and Nongoma on the lead vocals and arrangement, their sonic synergy is uncanny. The output of this collaboration is the perfect balance of an auditory explosion quelled by melodic harmonies and graceful vocal textures sitting perfectly in the mix. Their sound could be described as "future soul" or "Afrofolktronica". With influences which range from Fela Kuti and Angelique Kidjo to Billie Holiday and Parliament Funkadelic their sound is often likened to acts like Little Dragon, Coco Rosie and Ibeyi.
Since relocating back to Africa they have enjoyed performances and collaborations with artists such as Nothende, Fantasma, Raez, TheCITY, Batuk, Impande Core, Urban Village to name a few as well featured in popular events around the country such as Moshito Festival, Churn Festival, Alight Festival, Fak'Ugesi Festival, Synergy Festival, Afro Cafe, Design Indaba Music Circuit, Joy of Jazz Festival, Randlords, The Goodluck Bar & Kitcheners to name a few.
Facebook: KAJAMAmusic I Twitter: @KAJAMA_SA I Instagram: kajama_sa