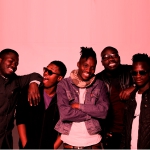 Shef & the Kitchen is a young band that has been taking music lovers in South Africa by storm. Behind their aprons beats musical hearts that have come together to create a feast of sounds for all ages. Their original lyrics that combine isiZulu, Setswana and English, offer a repertoire that melts in the mouth and warms the soul. Shef & the Kitchen have been performing at prominent events such as Moshito Music Conference, Standard Bank's Joy of Jazz, the Joburg Theatre's Youth Unplugged and many more, while their music has been featured on key shows such as Kaya FM's Top 40 and YFM's ReWired, The band members are celebrating their 6 years together and their creations which can only be described as a veritable gourmet of melodies.
Shef and the Kitchen has a rich body of work which can be seen on Youtube or heard on sound cloud. They are currently in studio recording their debut album, First Recipe, produced by Kunle Ayo, 2016 AFRIMA – Best Jazz Artist in Africa, 2011-Metro – Best Contemporary Jazz album and featuring SAMA Best Male artist Kabomo.

Shef and the Kitchen will be only performing at the Windybrow Arts Centre Youth Day event.

Facebook: @shefandthekitchen