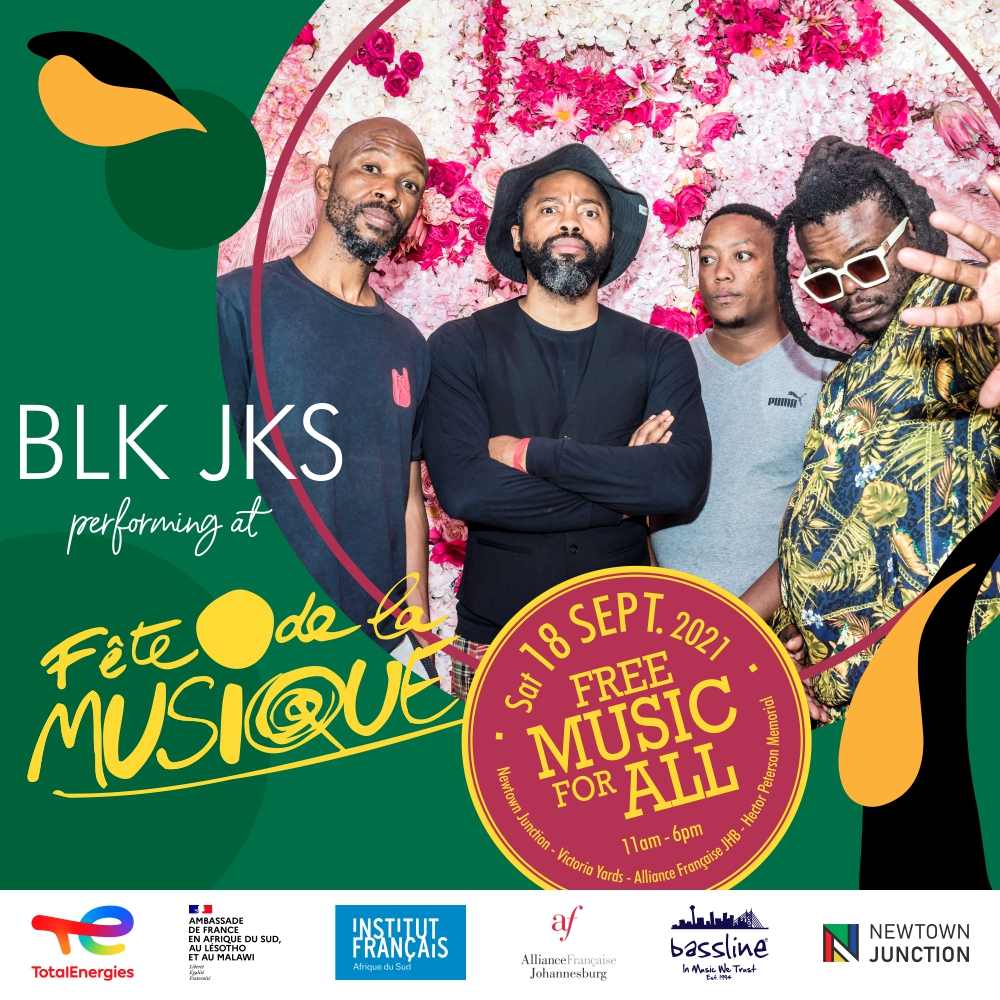 BLK JKS released their second LP, Abantu / Before Humans, on the 7th of May 2021 via Glitterbeat Records (Worldwide) & We Are Busy Bodies (North America)
The story of BLK JKS reads like a veritable rock'n'roll legend. For a couple of years around the end of the '00s, the enigmatic South African rock quartet was the darling of the local and international underground scene. Apparently "discovered" by Diplo in SA, they went on to meet and befriend everyone from The Mars Volta to TV On The Radio, two bands they were often compared to. They jammed with The Roots, snapped pics with Pharrell Williams and hung out with Lou Reed at the SXSW festival in Texas. They played double bills with Squarepusher at South Bank (UK) and Femi Kuti at the fabled Irving Plaza NYC, recording an EP aptly named Mystery by chance at Jimi Hendrix's iconic Electric Lady Studios. This and a Fader Magazine cover feature in March 2008 then led to the band signing with indie label Secretly Canadian in 2009. Their debut album After Robots went on to blow down the walls of rock'n'roll Jericho with its heady yet seamless mix of post-apocalyptic African funk rock, jazz, Kwaito, folk, renegade dub, psych prog-rock, tv channel hopping, internet surfing, mbaqanga, soul and pretty much everything else in between. Rolling Stone Magazine championed the BLK JKS as "Africa's best new band". But just as quickly as they arrived on the international scene, BLK JKS disappeared.
The years of international touring had begun to take their toll. By 2011 the band were back in South Africa; a hiatus where each member pursued their individual creative muses was inevitable and necessary. Guitarist Mpumelelo Mcata directed and produced two feature-length creative documentary films that twice premiered at The Berlinale. Drummer Tshepang Ramoba whom Billboard Magazine named Best Musician at SXSW '09, became an 'in-demand producer helping to launch and develop the signature sound of rising stars like Moonchild Sanelly. Bassist Molefi Makananise became a farmer and music-centric pedagogue, and frontman Lindani Buthelezi left the band to pursue his own musical direction. When the band's contract with Secretly Canadian ended in 2014, fans and critics alike doubted whether BLK JKS would ever record again.
Yet while they flew largely under the mainstream media radar, the three remaining members continued to work together for the next five years. Now, it's the year 2021. We are here in the future, where BLK JKS finally re-enter the musical fray with their long-awaited new album Abantu / Before Humans. They see it as a prequel to After Robots. Abantu is a surreal journey of an album, beaming with laser-like vision and power that in parts possesses an almost hauntingly vulnerable beauty.